Hot Off The Press!!

We hope you will join DIVAS ON FIRE along with special guests
Brick Fields and The Ozark Blues Society
this weekend at the Meteor Guitar Gallery in Bentonville, AR f
or our final Road To Memphis Concert!!


GET YOUR TICKETS HERE!!



Since the Divas big win at The Ozark Blues Society of Northwest Arkansas Blues Challenge we have been preparing for our exciting trip to Memphis, TN to compete in the 32nd annual International Blues Challenge / IBC. It's a great honor  for blues bands to be a part of the IBC and although several of us have competed in the past with our own bands this will be the first time Divas On Fire have gone as a group. We will kick off our set at IBC on Wednesday night for the quarter finals.
The 32nd annual IBC will be held on January 26-30 in the Beale St. Historic District of Memphis. 
The 32nd International Blues Challenge will begin Tuesday night (Jan 26) with the International Showcase. Wednesday and Thursday night (January 27-28) quarter finals will be conducted. Youth Showcase and Semi Finals will be held Friday evening (Jan 29). Saturday (Jan 30) IBC will conclude with Finals in the beautiful Orpheum Theatre . 
To find out more about IBC go to:
www.blues.org 
As you might know it will be very costly to take a ten piece band to Memphis for 5 days once you include hotel rooms, gas, parking and meals. Thanks to most of you, we have had two very successful fundraising concerts over the past month. The Divas on Fire final Fundraising concert is this weekend. Around 250 bands from all over the world come out to represent their regions at IBC and the winners go on to have a years worth of world wide shows and great careers that follow. It is not only a boost for the winners but there are record executives, festival bookers and blues enthusiast all over Beale St. during IBC so it is a huge promotion opportunity for your regional band and region. We, Divas On Fire,  hope you will come out to support us who will be your Northwest Arkansas representatives at IBC.
Saturday, JANUARY 16th 
Meteor Guitar Gallery
128 W. Central Ave
Bentonville, AR
Beginning at 8PM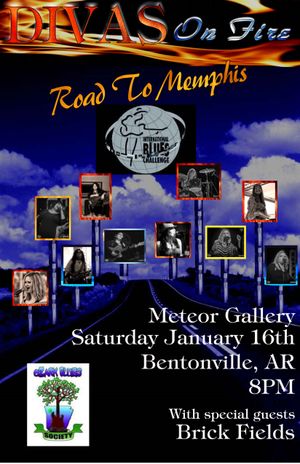 GET YOUR TICKETS HERE
To support Divas On Fire Road To Memphis online go to our
GO FUND ME PAGE

Thank you for supporting Divas On Fire Road To Memphis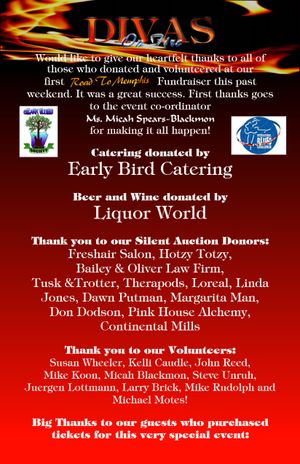 More special thanks goes to The Diva Den and Mojo Lounge, George's Majestic Lounge, Melinda Jones, Elizabeth Brooks, Erin Usher, The Handle Bar, Elayne's Dance, Early Bird Catering,
Bailey and Oliver